Naturally
GET Your Acne Clients Clear
with our Online Wholistic Acne Specialist Certification Program
Our proven Wholistic system has cleared over 10,000 acne
sufferers, naturally, and is easy to learn. Learn how you can be the next Wholistic Acne Specialist in your area that is helping people get their confidence back!
Join our mission to get 1 million people clear of acne
naturally!
Join our Founder, Jessica Gremley, and our Clove Hill Team in the movement to get 1 million people clear of acne- naturally! If you want to stand out in a crowd of estheticians in your community and do meaningful work, this training is for you. Clove Hill offers the only Wholistic Acne Specialist training available. It is a comprehensive, online training course that simplifies acne treatments and how to clear acne with esthetician approved herbal supplements.
What you'll
Learn
A detailed look at what you'll accomplish during our training Our comrehensive training program conists of 9 modules to set you up with everything you'll need to provide clear and meaningful results for your clients!
1
nutrition and acne
The role diet and supplements play with acne
2
hormones and acne
The role hormones play in acne and the herbal supplements you can recommend to help clear acne from the inside out
3
understanding acne
Foundational knowledge of acne, the genetic root cause, and the 4 primary acne triggers
4
Acne Types & Skin Analysis
Inflamed, combo and non-inflamed acne detailed analysis and how to tell the difference, rate the severity and spot acne fake-outs.
5
Products, Regimens, and Maintenance
Learn about each of our products, how to use, how to make bi-weekly regimen changes, alterations for unique situations such as rosacea/teen, how to utilize the skin care post-program
6
Herbal Supplements
Learn about each of Clove Hill's proprietary herbal supplements, how and when to recommend them and herbal constituents.
7
Acne Treatments & Check Ins
Hands on acne treatments in the clinic (peels, extractions) and what to discuss with the client at each visit
8
Success as a Coach
How to be a good coach for your clients
9
Conducting Consultations
What to talk to your clients about to determine what supplements and topical products to utilize during the process
Invest in training
The program is for
you if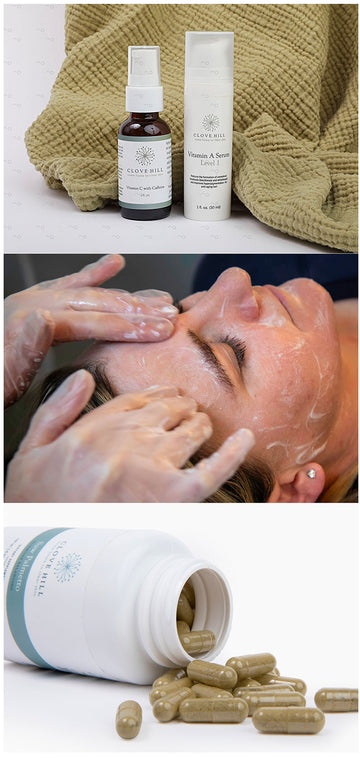 Your clients with acne that you feel facials and peels just aren't enough and they are looking for an acne specialist.

Personally, you have had acne and have never really been able to "figure out" how to get clear - and feel defeated...that as an esthetician, you feel like you should have all the solutions (don't worry, we're here to help with that!).

Based on your experience, you're
positive that acne is more than skin deep and that there are internal
imbalances that contribute to
triggering acne.

You want to stand out as an acne expert in your community of
estheticians.

You're currently a certified Acne Expert through another program, but are not seeing the results for your clients you'd like to and want to be able to help them get clear in 12-weeks.

You're interested in taking advantage of a lucrative and in-demend niche market in asethetics.

You're committed to helping people
in meaningful ways - to feel more
confient, inside and out!
Invest in training
Our online course
experience
9 online self-paced course modules
quick and easy 5-15 minute video lessons so you can learn between clients or in short intervals

Create personalized holistic treatment plans
and take your acne clients thru a 12-week program to clear their skin from the inside out and out
GET CERTIFIED QUICKLY
in 8 hours or less
BOOST YOUR CONFIDENCE
gain unstoppable belief in yourself to step up as the Esthetician and industry expert in acne that you have always dreamed of being. You got this
ACCESS EXCLUSIVE RESOURCES
Handouts, worksheets, quizzes and one-on-one support to ensure you feel confident clearing acne from Day 1!
BONUS! Additional support via our private facebook group
You are going to have questions when getting started and we are here to support one another.
You are not in this alone.

BONUS! Lifetime access
We are committed to updating our programs to provide you with the latest and greatest learnings acne treatment. Once you are in the program, you'll have access to updates FOR LIFE!
Enroll and
Save
Get the rewarding career upgrade you deserve!

Payment Options
REGULAR COURSE PRICE:
$699
INTRODUCTORY PRICING:
$199
Graduate
success stories
We are dedicated to Empowering You on Your Clear Skin Journey
"I'm a licensed Aesthetician in the state of PA. I became interested in aesthetics due to my journey with Acne and sensitized skin. I had tried almost every strong drug on the market, including Accutane, but I was still left with active, resistant Acne! After trying and failing in the traditional way, I decided to give holistic treatments a try. I healed my skin using professional-grade products coupled with high-quality supplements. I had been following Clove Hill for a few years, and when I found out they were doing a "Holistic Acne Training Course," I JUMPED at the chance to sign up! The Clove Hill course is incredibly detailed and thorough as well as comprehensive. They give you so much information and lots of PDFs that can be downloaded to refer back to. I personally love how they dive into foods and medications that can be "perceived" as good for the skin, when in fact they have the opposite effect on acneic people. I have added several Clove Hill supplements into my, and my clients' daily routines. I highly recommend this course if you want to further understand Acne and how it can be treated holistically!"
Patricia Bezerra,
Owner, Pachee's Spa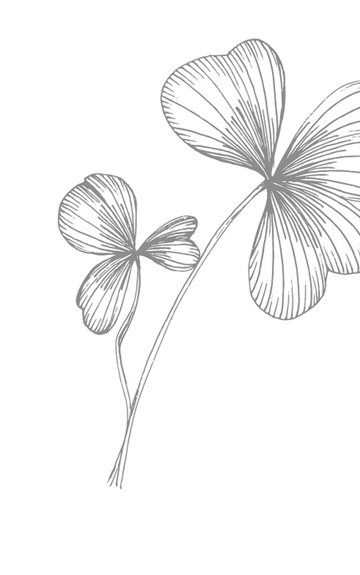 Frequently asked
Questions
Is the course self paced or live?
Our course is online and taken at your own pace.
What if I have questions or need additional support?
Our Product Educators are available by email, phone and zoom support. Just contact us with any questions or support you need and we are happy to assist.
How long does it take to complete the course?
Can Estheticians sell herbal supplements?
How is your course different from Face Reality?
Do you offer refunds?
Due to the nature of the training and information being delivered in a digital format, we are not able to offer refunds for the training program.
How long will I have access to the course?
The access to the course is lifetime access. You will even be notified of updates as they happen!
Can I take the course if I live outside the United States?
Yes, anyone can take the course and learn valuable information that can be applied with or without our wholesale skincare and herbal supplement products. However, please note that we cannot ship certain products outside the United States.