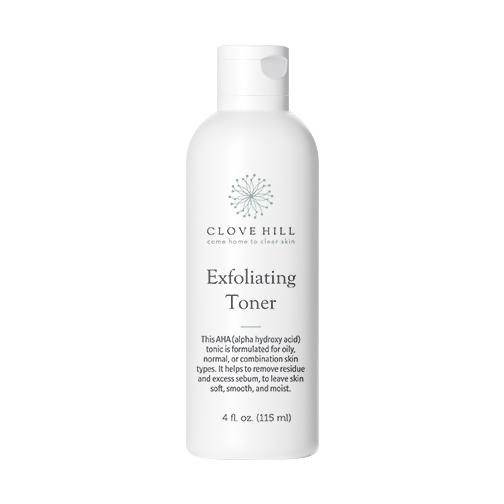 Sale price
$21.00
Regular price
An advanced exfoliating toner containing 10% Glycolic Acid. This AHA (alpha hydroxy acid) tonic is formulated for oily, normal, or combination skin types. It helps to remove residue and excess sebum, to leave skin soft, smooth, and moist.
Concerns: 
Non-inflamed acne

Breakouts

Keratosis Pilaris

Blackheads

Aging skin

Dull skin

Excess oil 
Benefits:
Smoothing

Moderately exfoliating

Brightening

Reduce + prevent blackheads 

Reduce breakouts

Reduce appearance of fine lines + wrinkles

Smooths keratosis pilaris
Key Ingredients:
Glycolic Acid 10%: Glycolic acid is a colorless and odorless derivative of sugar cane. It's an excellent exfoliant and can penetrate the damaged areas of the skin to promote cell turnover. This leaves the skin with a smoother, more youthful appearance.  Glycolic acid can also balance the skin's PH and reduce pimples caused by oily skin.
Lactic Acid: An Alpha Hydroxy Acid that helps reduce acne breakouts and signs of aging, like wrinkles. It helps lighten and brighten the skin for those with any skin discolorations, and is commonly used to exfoliate the skin by encouraging the shedding of dead skin cells. Lactic acid formulations are derived from beets.
Allantoin: A botanical extract from the comfrey plant, Allantoin is native to Europe and was brought to North America by early settlers. Now comfrey can be found all over the world as it produces small, bell-like flowers that bloom in clusters of pink, purple, or blue.  Comfrey has been widely used for its healing properties aiding in calming and soothing the skin.  It's appropriate for all skin types, including sensitive skin. It's, also, used to prevent dry, itchy or rough skin.
Aloe Vera Extract: Aloe vera gel is the cold pressed extraction from the leaves of the aloe vera plant, a succulent indigenous to East and South Africa. The clear gel is known for its cool, soothing properties. For this reason, American Indians called Aloe "The Wand of Heaven'' and it was their belief that anyone touched by the plant would be cured of their skin disorders.  Aloe vera gel aids in treating burns, bites, and cuts, as well as reduces inflammation to soothe the skin.
Directions:
After cleansing, apply a small quantity on a cotton round and wipe over the face and neck. For external use only.
Exfoliating Toner
Sale price
$21.00
Regular price