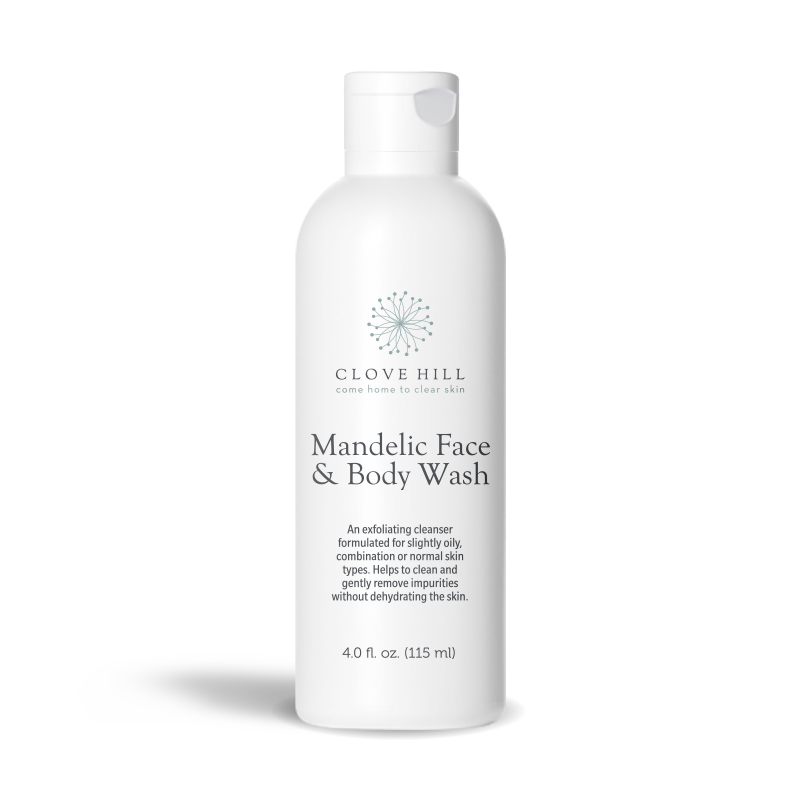 Mandelic Face & Body Wash
Sale price
$26.00
Regular price
Our Mandelic Face & Body Wash is enriched with a powerful blend of key ingredients that produces a head-to-toe glow by clearing and smoothing the skin. Our key unique ingredient is Mandelic acid, also known as "liquid gold", which accelerates the natural process of skin cell renewal. This results in a healthier complexion, as fresh skin cells replace the old, revealing a vibrant and youthful appearance.
L-Mandelic Acid is a chirally-correct alpha hydroxy acid (AHA) that is renowned for its acne-treating properties and its ability to address hyperpigmentation. Combined with our blend of botanical actives, this all-in-one bottle helps calm swollen or irritated skin, helps renew wrinkles and collapsed skin, and tightens pores, making it the "secret" step to get that full body glow and radiant complexion that you've always wanted.
Its gently exfoliating and hydrating formula is nourishing for both the face and body, and promotes collagen production, skin elasticity while helping diminish the signs of aging, giving you a smoother and more youthful complexion all over.
Suggested Use: Use 1 to 3 times daily on affected areas. Work into lather with fingertips. Rinse off thoroughly.
 Concerns:
Post Inflammatory Hyperpigmentation

Problematic skin

Breakouts

Blackheads

Inflammation
Benefits:
Increase cell-turnover

Prevent new breakouts

Even skin tone

Brighten skin

Reduce + prevent blackheads

Reduce breakouts

Mildly exfoliating
Skin Type + Condition
Inflamed Acne

Non-inflamed Acne

Comedogenic Skin

Post Inflammatory Hyperpigmentation (PIH)

Rosacea

Aging

Folliculitis
Key Ingredients:
L-Mandelic Acid (5%): an alpha hydroxy acid derived from almonds with reported benefit in treating acne and hyperpigmentation.  This chirally-correct, L-Mandelic Acid, has a larger molecular weight than other AHA's which allows for a slower epidermal penetration, resulting in a more even exfoliation with less irritation. 
Gluconolactone: Gluconolactone is composed of multiple water-attracting hydroxyl groups, allowing the skin to become more moisturized and hydrated. It's capable of chelating metals and scavenging free radicals, protecting the skin from UV radiation and other infections or diseases. Signs of aging have been known to significantly reduce with this ingredient, improving firmness in the skin while reducing fine lines, wrinkles, roughness, and hyperpigmentation. It can, also, improve rosacea in patients partially due to its gentleness on sensitive skin.
Honey: used to heal burn wounds, and they possess numerous functional properties such as: antibacterial, anti-inflammatory, antioxidant, disinfectant, antifungal and antiviral.
Leuconostoc/Radish Root Ferment Filtrate: Leuconostoc Extract, or radish root extract, is derived from radishes fermented with Leuconostoc kimchii, a lactic acid bacteria that has traditionally been used to make kimchi. The virtually odorless, slightly tinted liquid contains an isolated peptide that is secreted from the bacteria during the fermentation process that has been shown to have antimicrobial benefits. This makes it an ideal, natural and mild alternative to addressing problematic skin or scalp conditions. This vitamin-rich extract contains vitamins A, C and K, which are known to help prevent skin disorders and result in better cell repair. Its fiber content helps get rid of harmful toxins, resulting in clear skin.
Hamamelis Virginiana Leaf Extract: Witch hazel extract is distilled from the twigs and bark of the small, deciduous Witch Hazel tree native to eastern North America. Native Americans first recognized that this odorless, clear liquid has anti-inflammatory and astringent properties. The extract can help shrink swollen tissue and tighten pores, making this ingredient ideal to gently heal acne and blemishes.
Camellia Sinensis Leaf Extract: Green tea extract is derived from the leaves of a wild herbaceous shrub grown in East Asia. The tinted green liquid is full of antioxidants that help to detoxify the skin to rid the body of free radicals. This makes the ingredient highly effective at reducing signs of aging, wrinkles, and sagging skin. The catechins found in green tea extract act as a very strong antioxidant that can even help lower the risk of cancer and heart disease
Full Ingredients:
Water, Gluconolactone (and) Sodium Benzoate, Hamamelis Virginiana (Witch Hazel) Distillate, Propanediol, Camellia Oleifera (Green Tea) Leaf Extract, Propanediol, Garcinia Mangostana (Mangosteen) Fruit Extract, Water (and) Glycerin (and) Gluconolactone (and) Honey (and) Lactobionic Acid, L-Mandelic Acid, Sodium Chloride, Leuconostoc/Radish Root Ferment Filtrate, Sodium C14-16 Olefin Sulfonate (and) Sodium Cocoamphoacetate, Cocamidopropyl Hydroxysultaine, Coco Betaine
Mandelic Face & Body Wash
Sale price
$26.00
Regular price