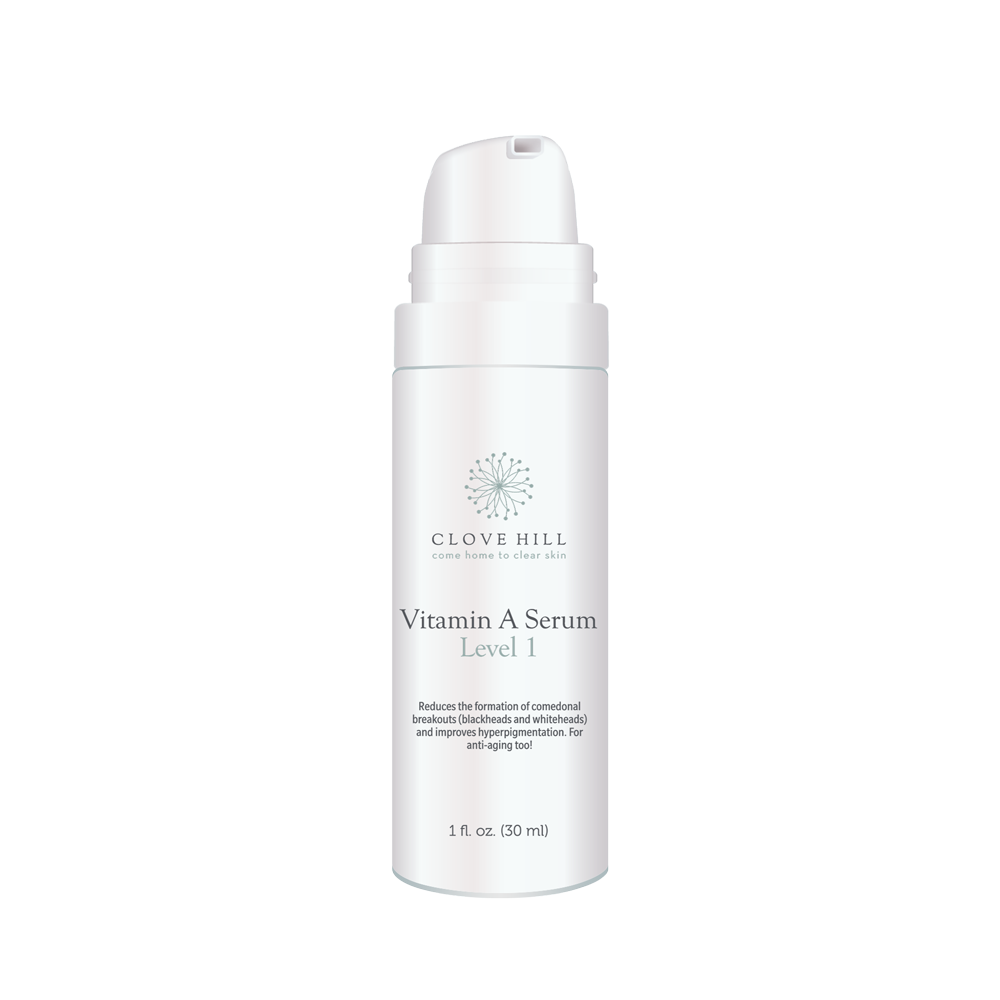 Sale price
$49.00
Regular price
A 2-in-1 cutting edge formula specially formulated for acne prone skin without added pore clogging ingredients. Vitamin A (Retinyl Proprionate) is known to be a powerhouse exfoliant, which is the key to clearing comedonal acne (blackheads, whiteheads and non-inflamed breakouts) and also keeping the skin free of dead skin build-up which makes the skin appear aged, dull and lifeless. Retinyl Proprionate also reduces skin cell degradation, increases cell metabolism, and smooths the skin by increasing collagen production. Retinoids are one of the few topical products that have the ability to reverse skin damage.
If new to using Vitamin A, it is recommended to start with the Vitamin A I.
Concerns: 
Non-inflamed acne

Hyperpigmentation

Acne scarring 

Sun spots

Aging

Dull skin
Benefits:
Increase cell-turnover

Reduce fine lines + wrinkles

Even skin tone

Brighten skin

Mildly exfoliating
Key Ingredients:
Retinyl Propionate:  A derivative of retinoic acid.  Retinyl propionate (developed by Dr. Fulton) is closest in molecular size to pure retinoic acid with just three additional carbons. It helps to reduce the formation of comedonal acne (blackheads and whiteheads) and improves hyperpigmentation. Retinyl propionate is small enough to reach its target but large enough to minimize irritation.  Has been used improve the appearance of skin by reducing skin cell degradation and increasing collagen production
Lactic Acid: An Alpha Hydroxy Acid that helps reduce acne breakouts and signs of aging, like wrinkles. It helps lighten and brighten the skin for those with any skin discolorations, and is commonly used to exfoliate the skin by encouraging the shedding of dead skin cells. Lactic acid formulations are derived from beets.
Niacinamide (Vitamin B3): a water-soluble conditioning agent that is a derivative of niacin. It's used as a skin stimulant and skin smoother.  Also known to help with the recovery of rough, dry, or flaky skin. By increasing the ceramides found in our skin, vitamin B3 improves the skin's suppleness. Naturally derived from non-GMO brown rice.
Aloe Vera Extract: Aloe vera gel is the cold pressed extraction from the leaves of the aloe vera plant, a succulent indigenous to East and South Africa. The clear gel is known for its cool, soothing properties. For this reason, American Indians called Aloe "The Wand of Heaven'' and it was their belief that anyone touched by the plant would be cured of their skin disorders.  Aloe vera gel aids in treating burns, bites, and cuts, as well as reduces inflammation to soothe the skin.
Kojic Acid: derived from mushrooms.  Inhibits an enzyme necessary in the production of melanin, helping to fade dark spots and discoloration. It also delivers some antioxidant protection.  Inhibits an enzyme necessary in the production of melanin, helping to fade dark spots and discoloration. It also delivers some antioxidant protection.  Also, acts as an antioxidant
Directions: 
Introduce 1 to 2 times a week the first week. Slowly increase usage according to the skin's tolerability, working up to daily use. For sensitive skin, mix the Vitamin A II with the Balancing Lotion in a 1:1 ratio before applying it to the skin.
Contraindications:
Pregnancy, breastfeeding, skin cancer, compromised skin. For adults use one. For external use only
Vitamin A Serum I
Sale price
$49.00
Regular price